My thoughts on Rocketown, the gay rights movement...
Dear music news sites: Could AbsolutePunk maybe be a little bit more "news" and not so sensationalist, and change the title of the current thread to "Member of Volumes Involved in Fight, Details To Be Determined" instead of "Member of Volumes Jumped at Rockettown"?  I think PropertyOfZack broke with a similar vibe, but then backed off the language a little bit...
I got home from great hangs and conversation with close friends, and all I want to do is blog.  I should be in bed, because I really should be early to work tomorrow.  But it's not gonna happen.  Here's what I've been finding out about myself over the past few weeks: I love humanity, because I've started to understand it.   I've come to grips with the fact that 95%...
My top music lists of 2012!
So I wrote this list back in November.  And now I've sat on it for over a month as I wait for Ron to post the abbreviated version of this list on the Fusion blog.  I assume he's probably gonna roll mine out on NYE, but I can't wait any longer.  Here's my year-end lists, with a few new updates added since November.  This wasn't as great a year for albums as 2011, but...
LIVINGSTON UNDERGROUND: The Livingston Underground... →
livingstonunderground: That's so weird to say. I hope that people care. This is your chance to make something really awesome happen right here in your community. We're just opening the door a little bit, but you have to crash it down and make it yours. I'll be the "old guy" that signs the checks and does the…
It's really hard to stay positive these days.  The weather's acting like a natural disaster movie.  There's a guy with a handgun driving around my area just shooting up cars, seemingly at random, nowhere closer than he was when he started 11 days to being apprehended.  The election stuff has us all afraid, at each other's throats, and thoroughly feeling defeated.  Our...
I decided today to start learning again.   I've spent the past 5 years running Fusion Shows, and kind of being the guy teaching everyone else.  How to put a piece of tape on all 4 corners of a poster.  How to build our brand.  How to hand out flyers.  How to produce a show.   Somewhere along the way, I think I stopped seeking out learning opportunities.  I mean, I've learned a ton...
It's 1:23 in the morning.  Today, I went wild on the internet.  Just had one of those days where I felt like I could say no wrong, so I just kept on saying.  It was fun.  Now I'm watching Diners, Drive-Ins, and Dives, and avoiding bed.   Today was super nice.  Accounting stuff balanced quickly, and I caught up with some friends.  I started a blog called Music=Movement, which was...
Music = Movement: Day 2
Well, short blog entry today, because the Spotify app was wigging out and was buffering more than it was playing songs.  I walked for a mile or so around the track across the street, and listened to the Tigers pre-game.  Really excited for Miguel Cabrera to win the Triple Crown, and more excited for postseason baseball! That's all I've got! 
A Sample of Livingston Underground →
livingstonunderground: Hey folks, We've gathered up some music from a bunch of Livingston County bands, both new and old. We wanted to give you a chance to hear first-hand just how incredibly talented the musicians in this area are and always have been. We want you to share this with your friends that live here and get them excited about our incredible music scene clawing its way back. We want...
Music = Movement: Day 1
Artist: Japandroids Album: Celebration Rock Listen on Spotify: Japandroids – Celebration Rock  I finally did it.  I put Spotify on my phone.  Right now, it's in a 48 hour trial of Spotify Premium, which costs $9.99 a month, but I wanted to see what the streaming service was like over the phone.  How much battery it wasted.  How it sounded.  How long load times were.   And I'm blown...
So, internet.  I've been meaning to tell you all about my two little vacations.  I am blessed enough to A. be able to take vacations, and B. have the internet to write blogs about them.  I tell myself every year, I'm going to not book as many shows over the summer.  Once school gets out, shows are hard to get people out to.  There's just too many other options.  Things like...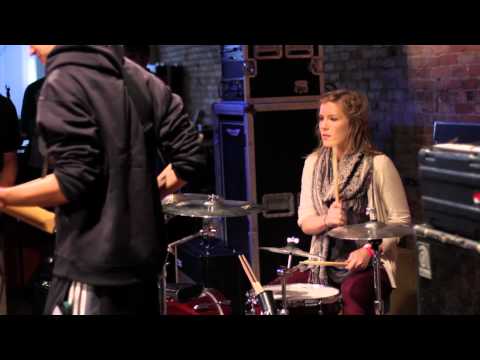 LIVINGSTON UNDERGROUND: This is... the story of a... →
livingstonunderground: Let me tell you a little story about a band. Well, first, it's a story about a guy. His name is James Radick, and a few years ago, 2008 to be exact, he reached out to me and asked me if he could play a show. At that point, Fusion Shows was already underway, but we were still regularly presenting…
The no-plan plan.  That's what I call it sometimes, when I just go off on my own, and make things up as I go.  That's my general plan for this week.  Going to head east, in theory.  Maybe go see some friends in Toronto, and then just continue on to maybe Montreal or Ottawa or both, and then south into Vermont and New Hampshire, before heading back home through upstate NY, and back home...
In a time that it seems that being sad (and telling everyone about it on the internet) is cool, I was truly saddened today by a bunch of things.  The least of which was that both of our shows tanked.  That's always a bummer, and affects my mood way more than it should.  While I'm struggling through the end-of-summer-I-didn't-do-nearly-enough-cool-stuff blahs that I go through...
Every night that I'm not at a show, there's this discomforting feeling growing in my belly.  It's partially that I haven't done any of the things I wanted to do this summer.  It's partially that there's no end in sight to the never ending paycheck-to-paycheck lifestyle that we live.  It's partially that my friends have all grown up and I haven't yet....
I am so inspired tonight by things happening in my hometown.  Sadly, Apathetic Critic's all-too-short run as a band has come to a close, but the friendship that surrounded that band tonight was really touching.  As Avery pointed out on the mic in between two of their songs:  "You guys have it so good here.  This doesn't happen other places.  It's amazing that through this,...
The Livingston Underground is back
It's finally happening.   After 8 years of shows, starting in April 2004 as the Livingston Underground, and progressing through Blue Collar Booking and onto Fusion Shows, it's all coming full circle. Starting this summer, a group of passionate local music supporters led by myself and the Radick brothers will be building towards the opening of a live performance space somewhere in...
The internet makes me sad.  But trying to avoid it makes me just as sad.   I don't really understand people's mentality.  Being around Common Ground Festival has been so inspiring this week, because it's awesome to see something so positive happening right in an area that needs it.  We've been a small part of it this year, and can't wait to grow in our role there.   ...
I'm having a bit of a mental wrestling match with myself the past few days.  I came home from Disney, got on the scale, and the number said 212.  I've never weighed over 210 before, and that's scary to me.  I should be under 200.  Actually, for my height, I should be more like 150 pounds.  It's not a matter of being "slightly overweight" anymore.  I'm fat....
So today, an out-of-line tweet that I made last night has kind of put in me in my place, and got me thinking.  Recently, I blogged about the legitimacy of booking agencies, and how some agencies should cease to be.  Seeing that I deal with agents of all shapes and sizes every day of my life, I had a lot to say, and I've gotten more positive feedback from that blog that anything else...
I now kind of understand what it feels like to have your album leaked when you're a band.  
Tonight was a great night.  Anberlin was incredible, both as a band and as people.  Their crew was super easy to work with.  I got to spend time with so many of the Fusion crew, people who I've built my life around.  It's an amazing group of people, to be sure, and I love them all dearly.   We got to talking with Span tonight from The Edge, and we were talking about the general...
PropertyOfZack Contributor Blog : : Nate Dorough
Just me ranting again.   propertyofzack: Nate Dorough is a promoter from Michigan that runs Fusion Shows, puts on Bled Fest, and does work with Phantom Creative Group as well. Following his blistering blog a few weeks ago on booking agencies, Nate has returned to take on Facebook and their continued failings at providing a good music and sharing platform for bands, promoters, and others...
Livingston County venue
I'm ready.   I rarely have less than three projects going.  In the recent past, it's been Fusion Shows, Bled Fest, and Phantom Creative Group (managing musicians like Koji, Jeff Pianki, etc.)  When at full steam with three projects, I'm pretty overwhelmed (see me back in like October/November).  But when I only have one thing to focus on, as is the case right now, my mind...
I want to find a way to replace Facebook in Fusion Shows' marketing plan.  Because I'm sick of Facebook's bullshit.  
Music Brings Us Together - Powered by Fusion... →
More of me ranting on the internetz.  Thanks to Tyler for a good interview.   commonrevolt: Common Revolt had the chance to speak with the man behind Fusion Shows, Nate Dorough. The company is a Michigan based company that books shows and promotes them throughout the stage, with tickets that have NO SERVICE FEES. Yeah, crazy right? Bled Fest, the company's…
I'm going to put this in the form of a blog, instead of an email to all of my staff, because I want the world to have the opportunity to know how wonderful a group of people I am surrounded with on a daily basis.   Today was unbelievable.  Not because I really had fun, because I pretty much didn't.  Bled Fest is the hardest day of my life, every year without fail, and this year did...
PropertyOfZack Contributor Blog : : Nate Dorough
I wrote this over the weekend, and Zack got it up today.  I hope people understand what I'm trying to say.  Would love to continue to hear your feedback.  :) propertyofzack: Nate Dorough is a promoter from Michigan that runs Fusion Shows, puts on Bled Fest, and does work with Phantom Creative Group as well. It's been a long time since we've had Nate on the site, but we're stoked to have...
Every time I see my friends play music, I am inspired.  To write.  To act.  To love.   Tonight, it was Jeff Pianki and The Parlor Soldiers.  Other nights, it's La Dispute, Mike Mains and the Branches, The Swellers, Joe Hertler, Sosaveme, Apathetic Critic, or a million others.   I want to write.  I want to tell the world what's right about music.  What's so great about it.  I...
My emotions have been wildly out-of-control the past few weeks.  I'm exhausted, I kind of hate humanity as a whole right now, and I feel like I'm surrounded by a lot of lies and mistruths.  I miss my friends.  Like the ones that called just to hang out.  The world becomes a lonelier place as you get older.   Today, I literally drove around to ten or so local baseball diamonds, hoping...
Well, it's still 2012...
KONY 2012 has been underway for a week now.  Now that everyone's relaxed, had their say, offended their friends, and claimed to be an expert on the issue, things have died down a bit, haven't they?   Hopefully everyone's done fair and balanced research on both sides of the issue.  Those who believe in the movement are on fire, more so than ever before (and are armed with a new...
The Whole of the Milk.: Defending Kony 2012? Kind... →
I have no idea who this guy is, but he accurately depicts today's society so perfectly.  It's worth a read.   thewholeofthemilk: Last week something happened that has never happened before in the history of the world that didn't involve cats and/or kittens. A video went viral to the tune of 40 million views in a day. It quickly became the fastest spreading online phenomenon of all...
Music Brings Us Together - Powered by Fusion... →
fusionshows: This Saturday is a big day for the future of arts and entertainment here in Livingston County. I'm from here. I moved here when I was 4 1/2 years old, and because of my wife's love for the area and for the Hartland school district where she works, I'm going to die here. I say that with mixed…
In the continuing saga that's unfolding surrounding the "KONY 2012" campaign, the most common argument against getting involved seems to be, in a nutshell, "You're a white suburban American.  Stop trying to make yourself feel better by caring about something so far away from home." WHAT?!?!??! Because you're born into a wonderful situation here in the most...
KONY 2012 CONTINUED...
Today has been absolutely mind-blowing.  One of those days that shakes the foundation that you've built your life upon.  It's been heart-wrenching, full of arguments and emotions that I had forgotten I had.  It's taught me so much about the era that we live in, and about the people around me.   I've got a lot to say today.   As I blogged about this morning, Invisible...
KONY 2012
A part of my life that's been dormant for the past few months got shaken up last night, and I'm reeling to collect my thoughts on the whole thing.  So far, I've seen people take to Twitter and Facebook to call those of us spreading the word (and not donating one dollar) "idiots" or far worse.  People I consider friends.   Here's the rundown: An organization...
Pretty inspired tonight.  Not so much because of the show, or the ensuing aftermath of incredibly drunken Strutt employees and patrons throwing down in epic fashion to mark their closing.  More so because of the great conversations I had with my friends tonight.   I'm really inspired to write, and write a lot, and really focus on music with meaning.  Real meaning.  Depth.  Thought....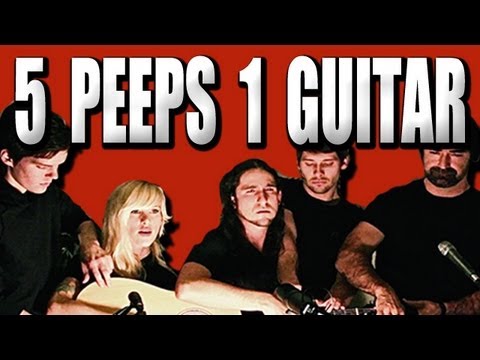 PropertyOfZack: PropertyOfZack Exclusive : : As... →
propertyofzack: As Cities Burn recently announced two reunion shows, but PropertyOfZack has confirmed with our friends at Bled Fest that the band will be tacking a third and very special show on to that list on May 26th in Howell, MI. The band will be playing material from both of Come Now Sleep and Hell Or…
PropertyOfZack: Bled Fest Launches Three Hour... →
propertyofzack: The eighth annual Bled Fest takes place in Howell, Michigan on Saturday, May 26, and today, festival organizers are announcing a spur-of-the-moment $12.00 "early-bird presale," available today only for just 3 hours, from 5:00pm to 8:00pm EST. PropertyOfZack is proud to be the media…
In my long list of things I'd love to do with my life, I'd love to host a blog where only feature-length stories, interviews, and other content was hosted.  None of these "news sites" that simply post a story based on a tweet that got re-tweeted from someone else.  There's so many talented artists in Michigan, not only musicians, but filmmakers, photographers, and...
Things feel good right now.  I mean, I'm still working at 1am, but it's because I'm excited about where we're headed.  New office, new allies, new tour for Jeff.  New possibilities.  Bled Fest is going to be silly.  I don't think kids have ANY idea what's about to hit them.  Fusion's doing well, and we're going to make some big steps this year,...
Bled Fest Preparing Lineup Announcement
propertyofzack: Bled Fest is preparing the initial lineup announcement for its eighth annual festival. It will be taking place on Saturday, May 26th at the Hartland Performing Arts Center in Howell, MI. The 2011 festival included Every Time I Die, Norma Jean, La Dispute, The Chariot, I Am The Avalanche, and Eisley, among many others, so get excited for this year's lineup announcement! Check...